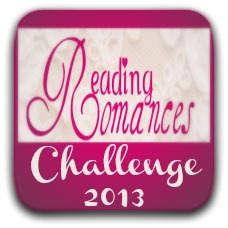 I'm back to the Reading Romances Challenge 2013.
In 2012 the goals were:
Read at least 20 books (one or two per month).
Write the reviews of the majority (not all of them).
Write the monthly follow-up and post them on my blog.
Even though I wasn't able to finish the December Challenge ('Jane Eyre' is here to stay…) my 2012 Reading Romances bookshelf counts 25 books.
This year's challenge it will be a little different so I'll be listing my book choices as we go along. And these are the rules and my choices for 2013:
Focus on Classic Romance plot lines, settings and themes.

I'm aiming to Level 6: 16 + books (or)

(or) Romance Lover: 2 or 3 books per month
This year prompts are:
JAN:    Marry me? – Marriage of convenience. An arranged or forced marriage leads to love.

FEB:   Foreigners do it better! – Greek, italian, spanish, french, brazilian, russians, sheiks! No English or North American heroes.

MAR:   The Avengers – Man uses woman for blackmail, revenge, kidnapped, seduced etc .OR May The Games Begin! – two people fighting for the same prize and only one can win.

APR:    Beauty and the Beast  – one of the main characters is physically marred in some way or a wounded hero, emotionally tortured.

MAY:    Summer Lovin' – a couple is stranded together and the enforced intimacy leads to more. OR Nursing Back to Health – hero or heroine is injured or near death and the other saves his/her life by nursing back to health.

JUN:   Who do you think you are?  – One of a couple isn't who he or she appears to be on the surface or pretending to be someone else or disguised.

JUL:    I'm BACK for good!  – Reunited Lovers. Second chance or a first love rekindled story.

AUG :   Traditional or not!  – time travel romance or a book with a love triangle.

SEP:   Bad Boys, whatcha gonna do? – opposites attract. This can also be reversed with a bad girl/good boy.

OCT:    In Love with my Best Friend  –  a friendship leads to more. OR Beta Male Fest! – any romance featuring a beta or gama male.

NOV:     Romeo and Juliet – a class difference sets a couple apart.

DEC:     Cinderella  –  rags to riches or riches to rags.
I appreciate suggestions for some of the themes but I'll be posting here my cries for help…
Do you have any suggestions for January?
Φ
You can check my Reading Romances Posts or join us here…
ΦΦΦΦΦ
Leave your comments here or send me an email to: [email protected]