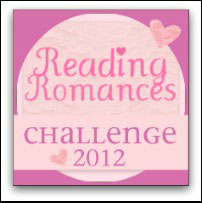 This is my Reading Romances Challenge monthly status.
October was a good month. I was able to include a new author, considering the incredible repertoire it's almost unbelievable how I haven't read any of her books. It also brought me the chance of including a reading from a series I've been following.
So… October reading options were:
 2) Read a book where a character is a cop or a detective and/or a murder mystery is being solved. – 'River Marked' by Patricia Briggs. See my review here.
THEMES: 
3) Read a book categorize as romantic suspense (Romantic suspense involves an intrigue or mystery for the protagonists to solve). – 'Public Secrets' by Nora Roberts. See my review here.
In November the options are:
TOPICS:
1) Read two books written by the same writer under different names (Ex. Sherrilyn Kenyon/Kinley MacGregor; Amanda Quick/Jayne Ann Krentz/Jyne Castle; JR Ward/Jessica Bird, etc) – 'Savor the Moment' by Nora Roberts and 'Naked in Death' by J.D. Robb
2) Read a book published in the 90′s (1990-1999)
THEMES: 
3) Read a Serial Romance a.k.a. Category Romance (ex. Harlequin, Silhouette,Mills & Boon, Candlelight,).
4) Read a Western Romance – Heloooo Cowboy! ; )
RANDOM:
5) Read a romance where the heroine or hero is a window or prince/princess.
6) Read a time travel romance, or a book that has an element of time as part of its title (midnight, noon, evening etc).
Φ
In November I'll be enjoying (and suffering) NaNoWrimo's wild ride but I'm confident that I'll be able to squeeze the two RR readings. Keep your fingers crossed and wish me luck.
Φ
Please check my Reading Romances Posts or join us here…
ΦΦΦΦΦ
Leave your comments here or send me an email to: [email protected]